Hi everyone.

Most of you know that my favorite athletic activity is shopping. After many years of dedicated hard work, I've perfected many shopping techniques. One of you recently remarked that when I shop, I'm as precise as a surgeon. While I've freely and frequently helped friends and family with shopping and wardrobe dilemmas, Tony has suggested that I share my advice with an actual audience.

The result is
Shop Doc
: Your Prescription for Style, Shopping and Success.
When I first arrived in Los Angeles I didn't have an extensive wardrobe and was on a very tight budget. At first I never felt confident putting outfits together for auditions or my many day jobs. I finally made a decision. I was going to put together a functional wardrobe consisting of just a few basic pieces that could create several combinations and take me anywhere. I've been working in Hollywood for several years now, and these 5 Easy Pieces are still the foundation of my professional and personal wardrobe. The individual pieces have changed being updated and upgraded as needed, but the pieces have remained the same.
I think they'll work for you too no matter what you do or where you live. Look for your pieces that fit your lifestyle and express your personality. Let's get started.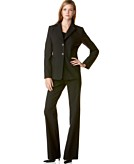 1.
The Suit or Suit Equivalent
Your suit should consist of two pieces: a good fitting jacket and trousers. You should be able to button your jacket if desired. Trousers should flatter you figure (a boot cut flatters most figures.) Avoid styles where the legs go to extremes being either too wide or too narrow for versatility and longevity. In terms of colors I'd stay with darker toned neutrals like chocolate brown, navy, charcoal, and of course basic black. Choose something that will flatter your complexion. I also suggest looking for a seasonless fabric, perhaps a lightweight wool that doesn't cling or shine.
A matching suit may not be suited to your lifestyle or taste, so instead go for coordinating separates that create the look of a suit. A great black and white tweed jacket over a pair of black trousers for example. You don't have to match to be polished.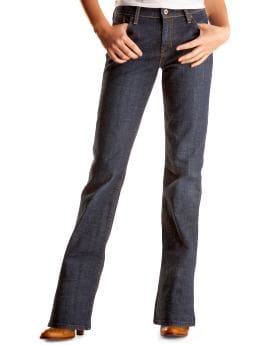 2.
Jeans
Jeans have become the American classic. For more versatility stick to styles with darker washes. Boot cut or straight cut styles are best and work for most figures. Find a pair that's both comfortable and figure flattering. Sure you may try on several pairs, but don't get frustrated. There's a pair out there for everybody.
Avoid trendy embellishments like jewels, embroidery and decorative zippers. Rips and tears are a definite no! Remember this particular pair of jeans will be one of your wardrobe building blocks.
3.
A Classic Long Sleeved Shirt
Check the fit at the shoulder and avoid any pulling or gaps in the
front. Choose a fabric that suits your lifestyle. I love the durability and comfort of cotton. I love the fact that cotton/poly blends are easy to care for which means very little ironing. I love the rich feel and look of silk, but know it requires the most amount of care. (Luckily I have a fantastic affordable dry cleaner.) Again look for a color that flatters you, and makes you feel good. Some say that a basic white shirt is the ultimate building block of any wardrobe. It always looks fresh, professional, and is always appropriate!
4.
A Classic Solid Tee
Surprised? No need to be. The classic T will look great under your suit jacket, or can stand alone over your suit trousers or jeans. You've got a ton of options; long sleeved short sleeved, capped sleeved, crew neck, V-neck. (Hint: when shopping for tees, consider how much of your arms you want to expose.) Please remember that I've specified a solid tee. That means no logos, advertising, or message tees.
5.
The LBD
(not to be confused with a cocktail dress)
The Little Black Dress can be dressed up or dressed down. It's ridiculously versatile. The perfect LBD is a dress that is appropriate day or night. Not only does it stand boldly on it's own, but can demurely go under your suit jacket, or go more casual when teamed with your long sleeved shirt. Avoid anything too short, too long, too tight, or too revealing (though a simple black camisole might take care of that.)
Your wardrobe should never put you into debt. My rule: Buy the best you can comfortably afford now. You may shop at one of the large retailers today, but in a few years be able to upgrade your basics at a specialty store or boutique.
These are my 5 Easy Pieces that I've sworn by for years. I've traveled with only these pieces in a carry on bag and have had many combinations at my disposal. They've worked for me and many of my friends whether they're fellow actors, homemakers, professionals or students. I'm sure they'll work for you.
Eventually you may want to expand your basic wardrobe and add the following staples:
A neutral colored Trench Coat

A Cardigan

A Turtleneck

A Pencil or A-Line Skirt

A great pair of Black Trousers
(truly one of the most versatile pieces in my wardrobe)
There are so many choices available to you, so take your time shopping to find the best options for your figure, lifestyle and budget. Once you have your basics in place you'll find that it's very easy to continue to build a working wardrobe.
Check out the Shop Doc Podcast.
The current podcast has information on a hot long lasting lip color, an online shopping site where the clothing and accessories are sharp, edgy and European. You'll also get some practical advice for dressing for television appearances. Let's face it, more and more people are being called upon to appear in front of a camera.